In today's digitized age, with the speed at which technology is racing, the need for small businesses to run on a seamless digital experience should not be underestimated. Small-medium businesses need to be digitally optimized while being nimble (on cost). In fact—this can be a make-or-break factor for your business.
Gone are the days when the only ways of discovering shops and products were by physically hopping from store to store, word-of-mouth, or advertisements. Now, the new norm is stumbling upon new businesses or companies online—which makes the need for a seamless online experience, essential.
Every company needs to work on enhancing their online experience, given that a large portion of the consumer market first finds you online and then, after browsing your website, considers buying your product.
The users' decision about whether or not to buy your product or avail your service is largely dependent on their experience of navigating through your website. If it is smooth and glitch-free, they would form a positive impression of your business. On the other hand, if they encounter defects, bugs, or other means of inconvenience, then they would naturally get frustrated and be driven away. Thus, you have to aim to give them the optimum online experience even if you are a small company.
Having a seamless online experience also sets you apart from competitors at the outset. You may have similar products or services, but the deciding factor for the user often comes down to how their experience with your website has been—as that may be the only insight they have into your business.
Now let's go over the essential suite of tools that will help you manage your digitization more efficiently.
A Cloud SaaS digital suite should include several elements, some of which include: website hosting, CRM software, finance management, and test management tools (e.g. Kualitee). A few helpful digital tools that will make your online management system much easier and more organized, are as follows: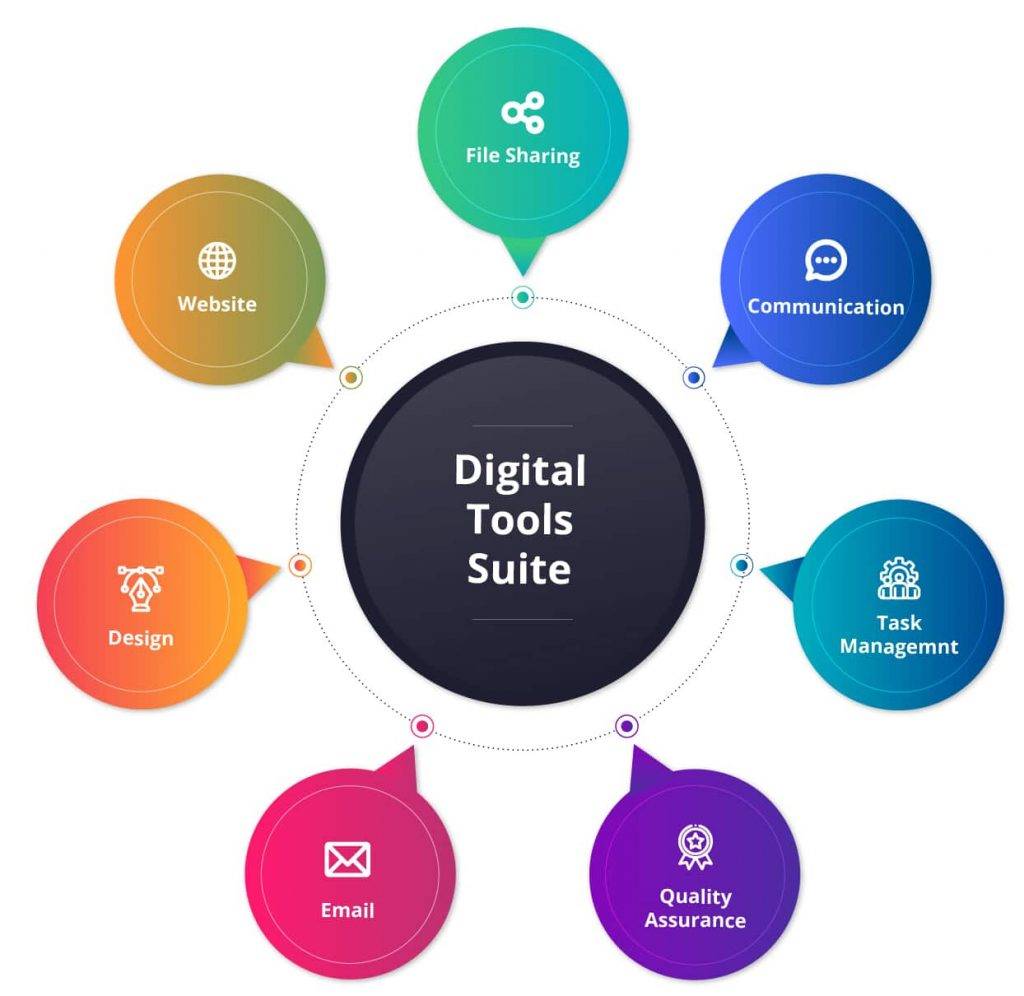 File Sharing: Google Drive; Dropbox
Communication: Slack; Microsoft Teams; Zoom; Skype
Task Management: Asana; Trello
Quality Assurance Management: Kualitee
Email: MailChimp
Design: Canva
Website: WordPress; HubSpot
Of course, the list goes on.
Enough has been said about all type of digital tools except Test Management Tools. So, we'll dive into how a test management tool helps small and medium businesses thrive.
Small business such as a shop, gym, salon or a small software house retain their customers through customer experience of their service. That's their bread and butter. For a lot of people and especially the Generation Z (people in their 20's-30's in 2020), who are driving majority purchase decisions in the economy, the experience starts by them looking at their smart phones and Googling the business.
Given the weightage that the virtual world has on people's lives these days, it is safe to assume that what they see on their tiny white screens weighs heavily on their decision to choose you or your competitor.
If you want tips on driving more and more of these new digital-first customers to you, read on.
A crash proof website and app
A beautiful and intuitive website and App are good things, but you can just forget about it if your application crashes or gets stuck. Patience for putting up with a stuck website or app seems to be diminishing. People, especially the newer crop, get frustrated easily and will not wait for more than a few seconds before trashing your stuck website forever and moving on to the next best alternative.
You have to build a defect free website and App. Period.
Let's debunk a myth first.
Myth: "QA is a luxury that only the deep-pocketed business can afford."
Fact: Software quality assurance is no more a luxury that only the large enterprises can afford, but now it is a necessity for anyone who is selling a service.
The good news is that a few technology breakthroughs in recent years have made it very accessible to small businesses too. You have to go a bit smartly about it and that's the ground we are going to cover now.
1. People
If 3 or more developers are working for you on your website or App, add a QA in your team. If you are working with 2 developers, assign them the role of a QA such that when one developer writes a code, the other should become an acting QA and test his code (and vice versa). Make the QA role responsible for removing all bugs in the system. With some training, your developers should be able to wear the hat of QA as well. Every developer can learn QA, given the will.
2. Process
Always test before releasing a new code. Build the new code in a test environment first, test it, and then push it on the production environment.
And even if you are not adding any new code, run a complete application wide test once very month. This is called regression testing.
3. Technology
Use a test management tool and chose using the below capability set:
Defect management—log, assign and keep track of all the defects.
Test case management—write down your test cases to re-use them. A smart and reusable repository of test cases.
Dashboard and reporting—stay on top of testing progress on desktop and mobile through few and necessary graphs and reports.
Scale—tool should let you start from 1 user license and grow as you grow.
Intuitive—team members should get a hang of it without formal trainings.
Economical —having a good test management tool shouldn't break your bank.
There is a host of test management tools to choose from, out there. The one we can say with confidence that fits all the above is Kualitee. We know it's our own tool so we might look biased saying this. But you should definitely give it a try for yourself. Trial is free!
Good luck with your journey towards making an unbreakable digital experience for your customers to unlock massive business growth. Don't forget to share your success story with us.